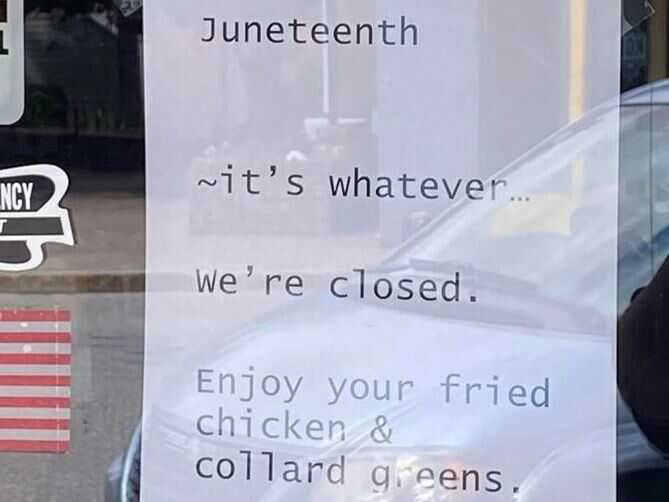 Residents in the town of Millinocket, Maine, say they are outraged and disappointed after a local insurance agency displayed a racist sign remarking on the Juneteenth holiday. Progressive and Allstate are terminating their relationships with the agency, according to representatives of the insurance companies.
"Juneteenth ~it's whatever… We're closed. Enjoy your fried chicken & collard greens," the sign stated in a large font. It was taped to the front of Harry E. Reed Insurance Agency in Millinocket on Monday. The small town sits about three hours outside Portland and some 50 miles away from the US-Canada border.
An image of the racist sign was shared online Monday, gaining the attention of thousands across social media.

The insurance agency has faced heavy criticism online, with people leaving one-star reviews on Google and Yelpsome of which have since been removed.
One review written on Yelp says: "@Progressive – is this really a company that you want representing you? Or is Progressive a company that believes in racism?"
Progressive spokesperson Jeff Sibel wrote in an email that the company is "aware and appalled by the sign" and that it is terminating its relationship with the agency.
"At Progressive, Diversity, Equity and Inclusion (DEI) are fundamental to our Core Values. We're committed to creating an environment where our people feel welcomed, valued and respected and expect that anyone representing Progressive to take part in this commitment," Sibel wrote. "The sign is in direct violation of that commitment
…
Read the rest